iCarly iGo One Direction !
Assalamualaikum
Hey, Wani saja je nak share cerita
iCarly iGo One Direction !
OH MY GOD, comel giler Louis XD
So, these are the synopsis of the story :
Carly gets sick with Jungle Worm on a vacation. Although she is cured of her symptoms after two days, Dr. Dresdin warns that she might still be contagious. When the British band, ONE DIRECTION accepts an invitation to iCarly, band member, Harry Styles gets sick after he drinks from Carly's water bottle. When he isn't better after a week of Carly taking care of him, the others get the suspicion that he is just faking his illness. In order to get him to confess, they make up a lie that they want to accept Gibby, a huge One Directon fan, into the band. Harry is shocked by the idea that he stop pretending to be sick, and One Direction performs their song "What Makes you beautiful" on iCarly.
Meanwhile, Spencer ( Carly's big brother ) finds an exercise machine on the junkyard . It catches the eyes of an attractive woman named Justine, so Spencer claims to be a personal trainer in order to impress her. Unfortunately for him, not she wants to exercise, but rather sends her bratty daughter, Bethany. Spencer eventually talks to the girl about how she has to be nicer and tries to give her a makeover, but fails.
Sources :
http://icarly.wikia.com/wiki/IGo_One_Direction
Part 1
Part 2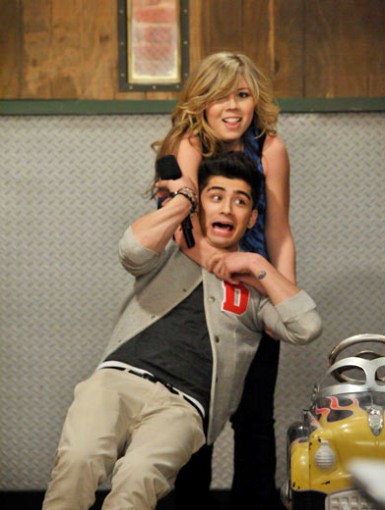 I just love this part haha when Zayn Malik got strangled by Sam Puckett kyahahaha
Labels: One Direction, Youtube
Wednesday, April 11, 2012 | 12:59 AM |